WEG 2014: updated version of the medal leaderboard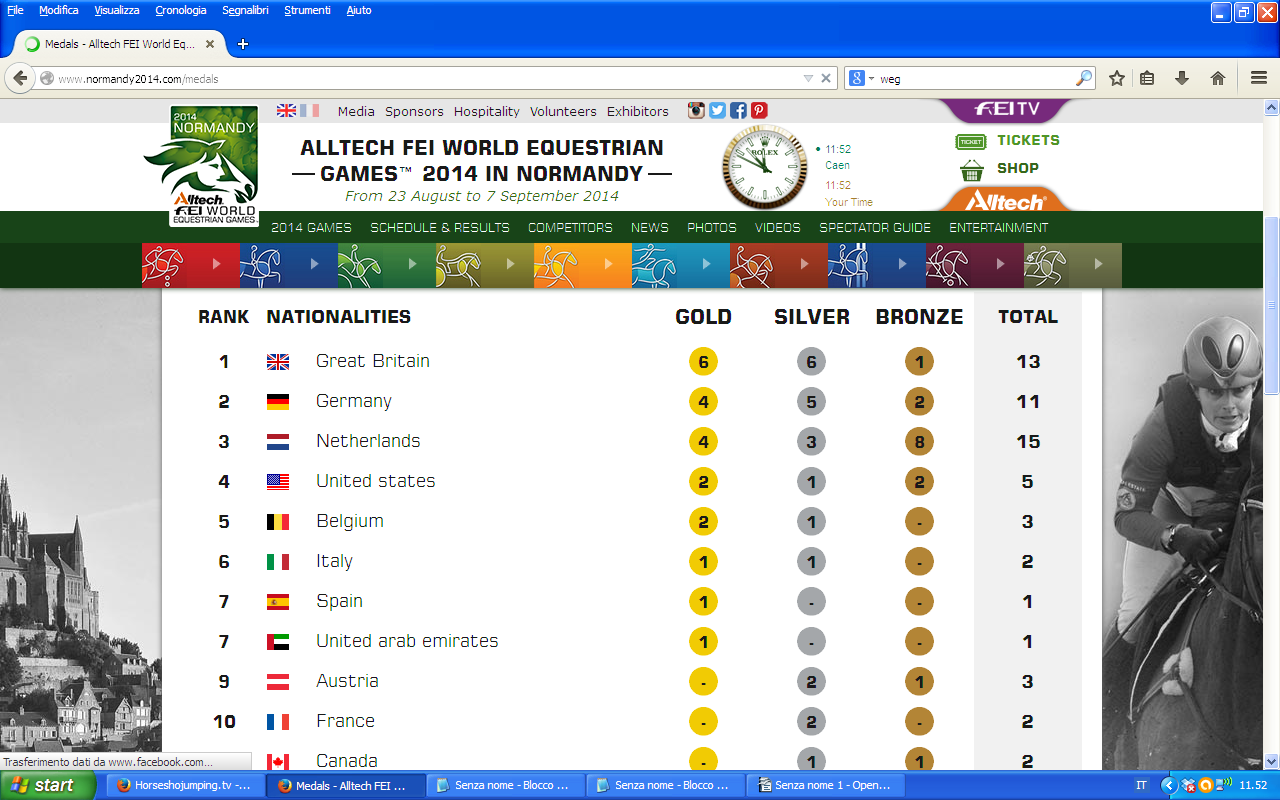 Let's take a look now at the medal leaderboard for the 2014 World Equestrian Games after the latest events. For the moment Great Britain are at the top and are dominating in particular in the Paralympic and dressage disciplines. 6 golds have been won so far by the British athletes of which two in the dressage (Charlotte Dujardin and Valegro in the individual and Freestyle test) and 4 in the Paralympic discipline (Lee Pearson (2), Sophie Christiansen and the dressage team event).
In addition to the 6 gold medals, Great Britain have won 6 silvers and 1 bronze which means they lead the provisional standings with 13 medals overall.
Germany have gained ground and leapfrog Holland into second place after three medals in the eventing discipline. The overall medal count now for Germany stands at 11 made up of 4 golds, 5 silvers and 2 bronze medals.
Holland aren't far behind after winning the team gold in the show-jumping and now have 15 medals overall but fewer gold medals. Their medal collection is broken down as follows: 4 golds, 3 silvers and 8 bronze medals.
The American athletes are also doing themselves proud and after a scintillating display in the Reining discipline the USA has taken its total from 1 to 4. The USA took gold, silver and bronze in the individual reining trial as well as bronze in the team show-jumping.
Belgium hold onto their fifth place after 2 gold medals and 1 silver while Italy's position is unchanged in sixth and they are looking to climb the leaderboard having picked up a gold and a silver thanks to Sara Morganti in the Paralympic individual dressage discipline.
Spain are behind in seventh after winning gold in the endurance team event and share seventh spot with the United Arab Emirates. Austria are in ninth with 3 medals won so far (2 silver and 1 bronze) while the hosts France are in 10th place after a silver medal in the team show-jumping event and the team endurance. For more please see here: http://www.normandy2014.com/medals
Finally, today will see athletes competing in the vaulting grand final.