Rain leads to cancellation of CSIO San Gallo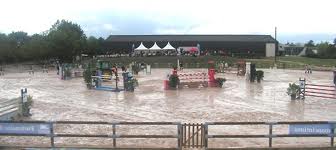 The organisers did all they could but in the end the committee of the CSIO Longines of San Gallo had to admit that the bad weather had won.The decision was made to cancel the Swiss CSIO with much bitterness after all the work that had gone in to making the event possible. The heavy and consistent rain just would not allow for drainage and the ground just gave way, making it impossible for a competition of that sort.
It was a difficult decision to make with organisers, jockeys, trainers and the jury all involved in intense talks. The health and safety of the horses always comes first and so in the end there was only one thing the organisers could do – send everyone indoors!